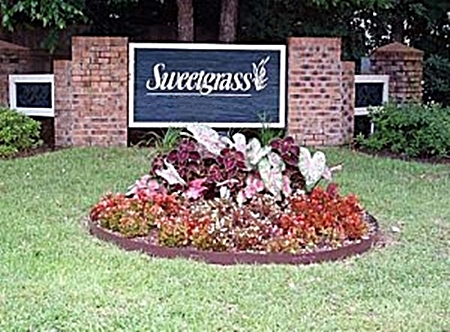 Located in Mount Pleasant, South Carolina, Sweetgrass Neighborhood is a 253-home subdivision perfectly situated in one of the most ideal locations in the Lowcountry.
The neighborhood is just minutes away from both Isle of Palms and Sullivan's Island, two of the top beach resort destinations in South Carolina, as well as historic downtown Charleston, consistently rated as one of the top tourist destinations in the country.  Within walking distance to Sweetgrass are two of the area's premier shopping and dining centers, Seaside Farms and Town Center, offering scores of upscale shopping options and dozens of restaurants.  They also are home to everyday needs such as grocery, pharmaceutical, veterinarian, grooming and medical, putting you always within minutes of most any convenience you could ask for.
Within the confines of the subdivision, Sweetgrass offers a community with numerous social opportunities throughout the year for neighbors to convene.  Sweetgrass also offers a boatyard to eligible residents to house watercraft.
Sweetgrass is governed by a Homeowners Association that prides itself on ensuring Sweetgrass Neighborhood continues to be one of the top choices to reside in the Lowcountry.